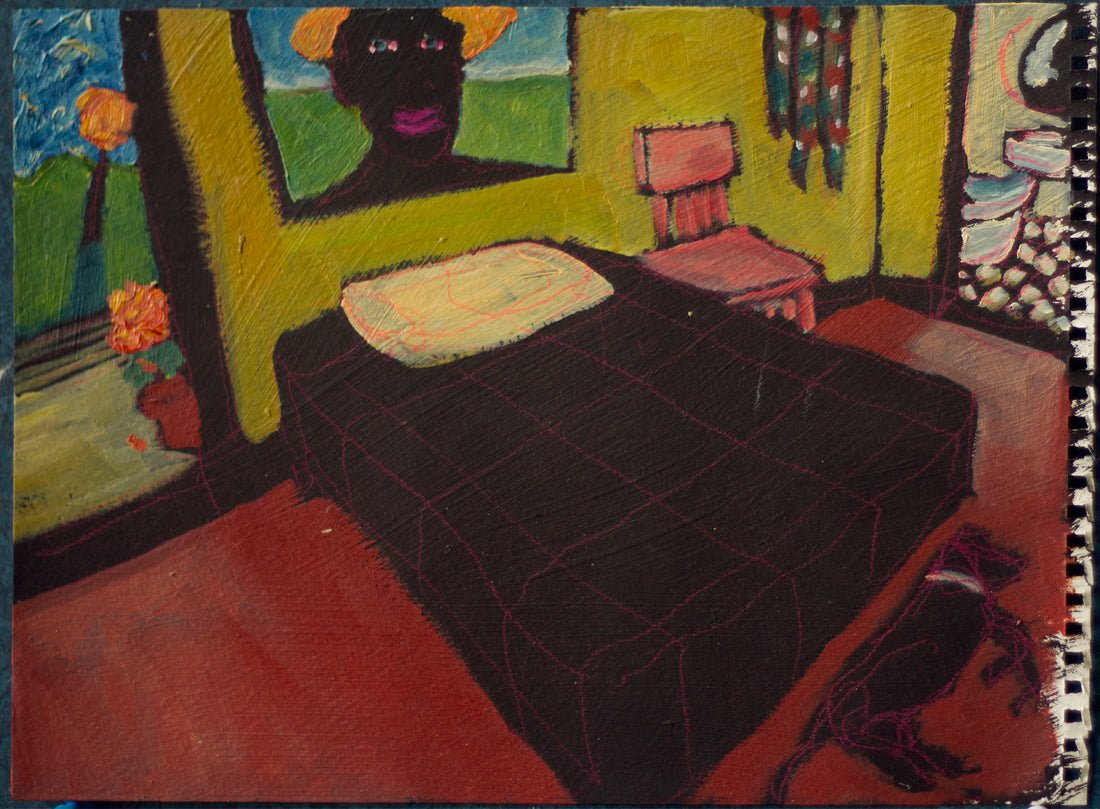 This small interior painting by Douglass Truth depicts a bedroom, with a portrait hung on the wall, and one of Truth's signature black dogs asleep on the floor. The painting also offers a glimpse outside through a window, as well as a glimpse into the bathroom at the far end of the space. Truth utilizes an altered sense of perspective and space that gives the piece a uniquely engaging quality.
About Douglass Truth
Douglass Truth is a painter, writer, and performer.
Born in 1953 in Indianapolis, Indiana, into a family famous for its mechanics, bricklayers, and lawyers, Douglass Truth was cursed from the beginning with a heightened sensibility combined with very poor taste. Attempts at remedial education throughout the years have met with uncertain results, leaving him with a reputation as mixed as his media.
He has worked as a civil engineering designer and surveyor during the pipeline years in Alaska, a chef, building dismantler, English teacher, and as a software salesman in Taiwan. He owned and operated a graphic design and silk-screen company, Flying Turtle Graphics, supplying his own unique designs on T-shirts, coffee mugs, and posters.
Truth began painting in 1996, and has been represented by galleries in California, Arizona, Indiana, New York, Massachusetts, and Connecticut.
After a serious illness in 1998 Truth closed his business in order to devote himself entirely to painting and writing. "After such a confrontation, or voyage, or whatever it was," he said, "you find out what is really important to you. I found that out, and am fortunate enough now to be able to do it."
Truth has done performance work with The Black Valley in Grass Valley. He was one of the first artists to take part in the Storefront Artist Project in Pittsfield, MA. He wrote and published three books, I Am A Dog, Revolution of Flowers, and Everything I Know About Death (Subject to Verification.)