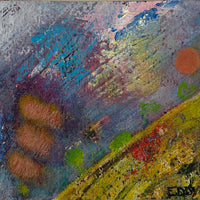 acrylic on panel, 5" x 5", artist framed
A wondrous example of David Eddy's use of vibrant color to illuminate movement within the cosmos.

About David Eddy
Eddy's paintings explore varying levels of abstraction and styles of narrative. While the preparatory stages of his process-he works with many layers of pigments on panel and a ground which is periodically distressed by physical manipulation and mistreatment - are nearly identical for each piece, the final surface layers determine the unique narrative for a painting. A painting's subject (or narrative) begins to declare its-self as Eddy works on the preparatory stages. This sparks a larger image, story, experience, thought, or whatever, in the artist's mind and he then takes the painting to fruition/completion. His images are both self-revelatory and broadly human.